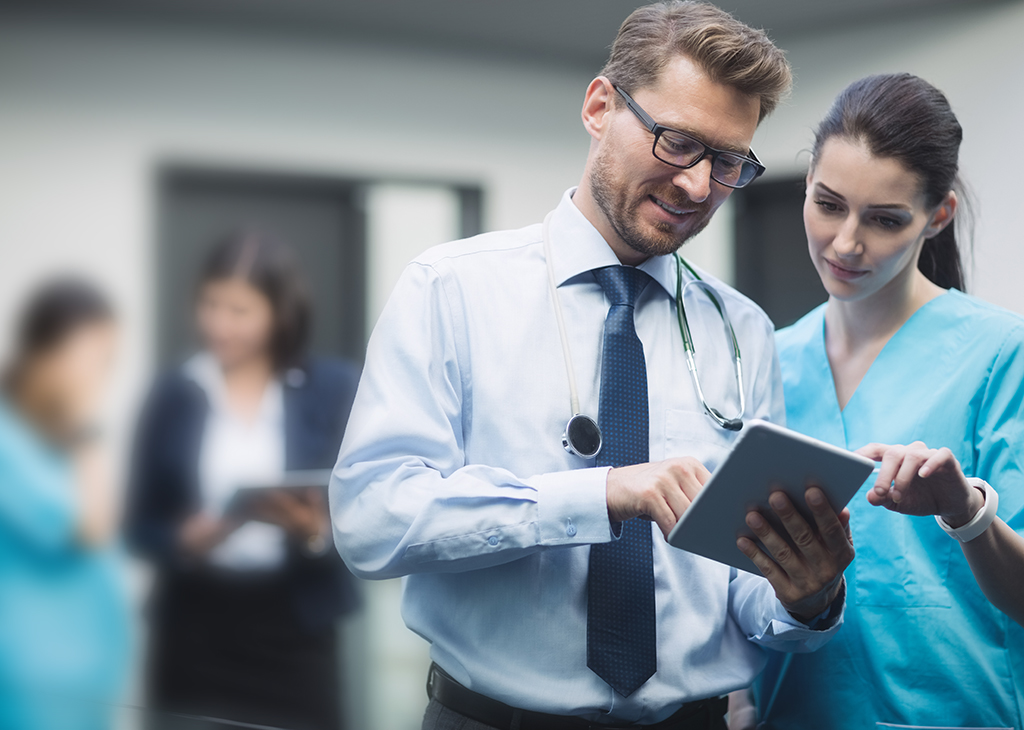 Starting out at a new workplace can be a nerve-racking experience despite the fact that you have years of experience. The first day is crucial and so is the first impression that you create.
If you are a clinician, starting as a freshman has its challenges and so does starting as an experienced clinician. With this blog, we bring you 10 top tips that could help you survive the jitters and go ahead with more confidence and adapt quickly.
1. Don't overthink and go with the flow
Not just at a new job but anywhere in your life, this advice will help you survive anything. Often you might be so excited to join a new workplace or the dream job that you will create a certain image of that thing in your mind. As much as we hope that it comes true, that might not be the case every time. This could lead to disappointments, frustrations and dissatisfaction.
So we advise you to go with the flow. Just be excited enough about it with an open mind so you can grasp and adapt to everything that comes your way. We know this does not sound as easy but could definitely help you sail the storm brewing inside.
2. Make sure to create a right first impression
We definitely don't believe that first impression is the last impression but we do believe that first impression matters. Certain things do matter like arriving on time, taking note of every instruction taken, gelling in with everyone and the way you introduce yourself to everyone.
Different people might take your behavior differently so be sure to stay on a neutral end of everything. It is important to stay in the good books of your seniors as well as peers since they are the ones that will help you to get through the start phase of your tenure at the workplace.
3. The cardinal rule – Avoid GOSSIP!
At most of the workplaces, taking a break or relaxing a bit might mean gossiping. White this might add more spice to your day, our advice would be to strictly avoid gossip at all costs.
Besides, gossipping can sound very unprofessional and insensitive especially since you tend to the healthcare industry. There are many HIPAA laws which state that you cannot gossip about patients. So, make sure you don't be a part of any gossip or take one if there are people doing it.
4. Be humble, kind and helpful
It might so happen that you have joined as a senior member or as a head to a group of freshmen clinicians. Make sure that you are well-grounded with a leader on a mission, humble about your service and ever ready to help. This will help you gain more acceptance between your subordinates and also promote positive team building.
If you have joined as a junior, be ready to learn new things, take criticism positively and learn from everything you can. There is always something new to learn. Inculcate a habit of observing everything to nurture your skills.
5. Get Feedback
Getting feedback is so important. Not everyone will outright go on to tell you what they feel but if they see you inclined enough to hear what they have to say, well, you might just get the right feedback to get you ahead.
Lets face it, it is not easy to work as a clinician. You need to be physically and mentally strong. Not everyone will be perfect on the first day. It takes years to gain that momentum and if your goal is to be the best at what you do, go grab some meaningful feedback.
6. Be open and flexible
You might be used to your own set ways but if you are not open enough to change your habits, there is a lot of learning that you will be missing out on.
You might have worked at a small facility first but now if you have got a chance to work at a big one, everything right from the policies, procedures, systems is going to change. Make sure to adapt to it and learn from it because that will help you in the long run.
7. Ask questions confidently
Not everyone of us has the courage to ask the right questions but if you have one, go on and ask it anyway. There are a lot of things you will not understand the first time like the protocols or the standard defined procedures at the facility. It is better to ask questions than to make mistakes.
There is no scope for you to make one since you are dealing with someone's life here. Go on to ask questions without giving it a second thought. It is always better to be safe than sorry!
8. Stay organised
We cannot stress enough how important this is. Staying organised is going to help you and your patients in every way possible. Right from taking notes, feeding them to the system, keeping updates on the medicines administered and the time for it – everything matters.
Be it anywhere you work, make sure to keep everything organised for all the right reasons. This will help you in case of emergencies when you need to run back and remember stuff when you have everything ready and organised.
9. Observe, observe, observe!
We can go on about this. Most of the things that you will learn at a new place is by observing. Keep taking note of how seniors are treating the patients and following up. Listen to the patients, observe their body language especially if the case is a bit sensitive. This could lead to a better diagnosis and treatment of the patient.
If there are situations when you are not able to determine what happened then you can determine a lot of things by simply observing the body language or movements of the patient.
10. Get along with everyone especially the support staff
Do not confine your connections or communication only to your peers or superiors. Talk to everyone. There is a lot of help out there that you get from people working in the support staff and admin area. Believe it or not, they know more than anyone else.
If you are facing cold shouldering as a new member, there are many staff members who are not directly working with you but can be a huge support system. The guy at the canteen could be a great help in need or the one at the reception. Make sure to get along with everyone.
Which one do you feel is the best of the above? Do you have any more points to add to these?
More importantly, are you a qualified nurse on the lookout for the right opportunities in New York or Connecticut? Check out our app on Apple Store and Play Store or reach us out at support@perdiemz.com to know more about us.